Three key lessons from managing the greatest journalism projects in history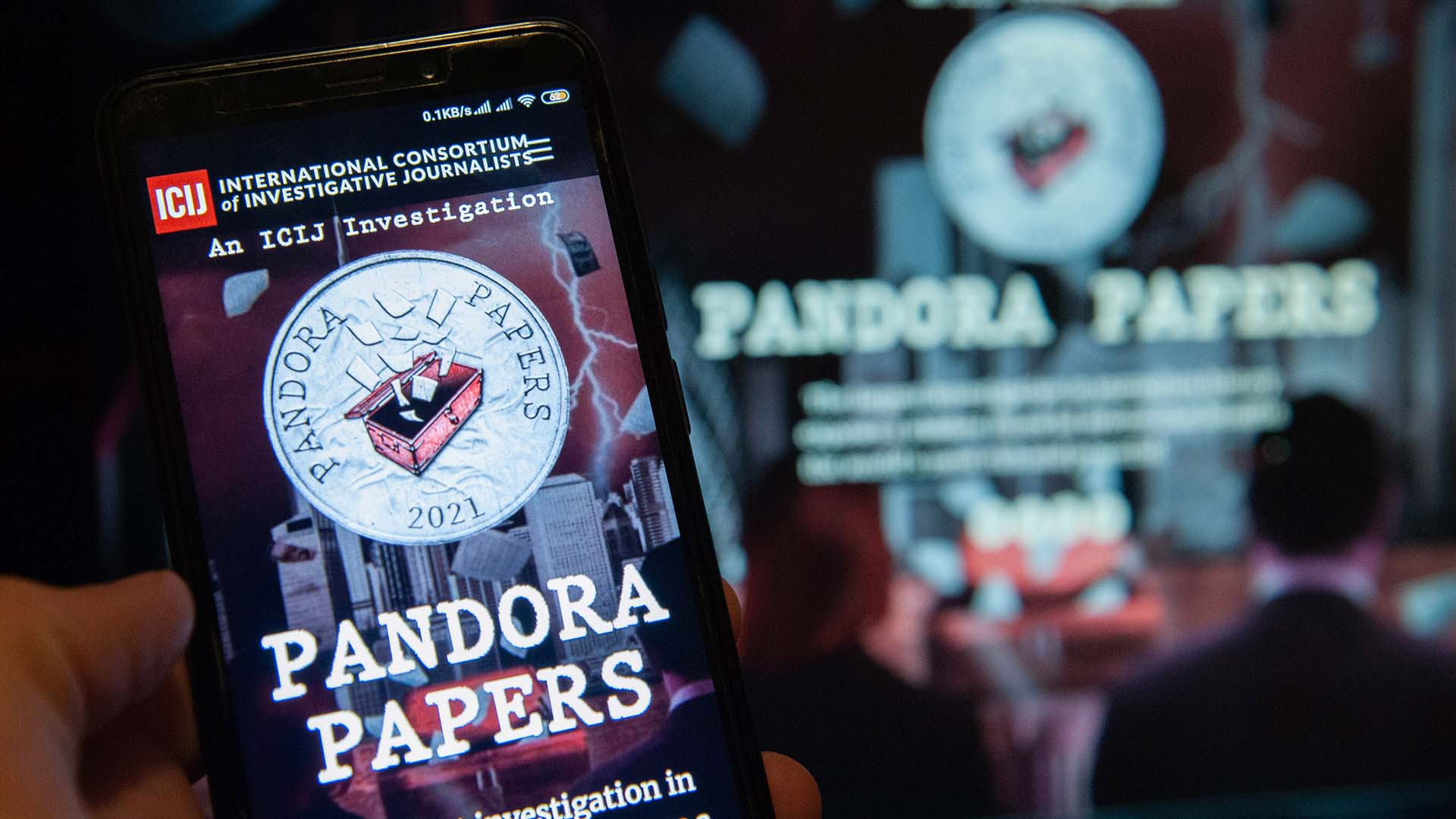 Behind the scenes of the Pandora Papers – the largest reporting collaboration of its kind in history – were dramatic flashes of lightning, volleys of legal letters and flurries of name checks. One minute we were dealing with journalists fleeing Russia for their own safety; the next fiery letters from presidents, prime ministers and pop star lawyers; then debates on nomenclature or transliteration. Pick a winner: Zelensky; Zelenskyy; Zelenskiy?
The Pandora Papers project has grown to include more than 600 journalists from 117 countries. Our online calls were entrance chime symphonies; cacophonies of connectivity issues; virtual towers of Babel. We walked through the pandemic mists to an ancient Khmer jungle temple looted with artifacts; discovered a king's secret mansion in Malibu atop a cliff; sculpted through the fog to an Italian village suffering from a dreaded chemical poisoning of its water.
The survey exposes the inner workings of 14 offshore suppliers, set up to manage shell companies and trusts. Front companies may look like tight ranks of periwinkle pickers unraveling the mysteries of the sea's frail, radiant whelks, but, in reality, they are one of the most harmful things ever made: a multibillion dollar grab. on the foundations of good governance by companies that only exist on paper and are used to disguise company ownership.
In total, there are over 11.9 million "papers" in this Pandora's Box, depicting underground river systems of financial flows that ICIJ's remarkable data and technology teams have hijacked in a vast lagoon called Datashare where journalists sitting on virtual banks could quietly fish for financial information. over 30,000 offshore companies day and night.
Believe in the power of investigative journalism?
MAKE A DONATION
Donate today and help us inspire and cultivate a global community of journalists and readers who believe journalism can bring positive change.
When ICIJ Director Gerard Ryle secured the 2.94 terabyte treasure, the ICIJ editorial team knew we were on to something. We didn't know what size. "John Doe", who leaked the Panama Papers, said: "The revolution will be digital. The prefix Tera is derived from the Greek word for monster. Our goal was clear: to digitally tame the wickedly complex offshore monster.
We knew, to paraphrase the words of the former Chinese military commander and gift to T-shirt makers around the world, Sun Tzu, that we had a hundred battles to fight. Time, complexity and stress are the combined enemies of every great collaborative journalism project. For Sun Tzu, a practitioner of stone-patience, the art of war consists in breaking the resistance of the enemy without fighting.
I would agree with the doubtful warrior.
Having had the privilege (backed by a phenomenal team) to oversee the two biggest journalism projects in history, Pandora Papers and FinCEN Files, I learned three key lessons for privately decorating my own tea towel with:
When things are calm, be busy. When things are busy, be quiet.
Trust that knowledge grows. Get involved to teach. Get involved to learn.
Never let a small fight take place before a big deadline.
After the Panama Papers in 2016 and the Paradise Papers the following year, Pandora Papers could be considered the ICIJ equivalent of Tax Havens III but in reality it sits along an archipelago of projects dating back even further. away, each building on the previous to pull the dubious financial transactions of the rich, powerful and criminals out of their offshore breeches.
The past efforts of the ICIJ have helped spark – at times – a hopeful global debate on taxation, secrecy and income inequality; the vertiginous deception of the financial industry and the heavy price we all pay for its quiet domination of public policy. This time around, our work uncovered the secret offshore holdings of 35 world leaders, over 330 politicians and senior officials, and over 130 billionaires, in turn causing a global storm.
In the movie Spotlight – a film that follows the Boston Globe's investigation into sexual abuse in the Catholic Church – there is a scene in which the journalists who wrote the first success stories asked the Globe editor. , Marty Baron, advice on how to handle some of the backfire.
Baron's response was to tell his team to continue reporting.
"Sometimes it's easy to forget that we spend most of our time tripping in the dark," he said. "To me, that kind of story is the reason we're doing this."
He wanted the Boston Globe reporters to reveal not individuals but the entire corrupt system and confront it head on. And this, in its own way, was what the ICIJ was attempting when it asked Baron (then editor of the Washington Post) to join the Pandora Papers project. Baron and the Post team, led by Cameron Barr and Ziva Branstetter, didn't hesitate for a moment. Substitute for Baron at the top, Sally Buzbee was just as favorable.
The Post was part of what would become a coalition of 150 media partners from around the world.
Journalists from countries where press freedom is under constant and intense threat have joined the global team. Our partners in Belarus, Sri Lanka, Ecuador, Paraguay and Pakistan, as well as Russia, all faced deep and sometimes serious challenges during the project. Reporters from several countries have crossed borders so that they can continue working on the Pandora Papers without the threat of jail, or worse. Many more have had to navigate the chaos caused by COVID-19. Exacerbating the tension, two days before publication, the ICIJ website was briefly crushed by a massive cyber attack.
As Sun Tzu would have described it: we moved as one, leaving our plans dark and impenetrable as night fell like lightning.
Regardless of the threats, intimidation and complex logistical challenges of working in secrecy around the world for two years, the ICIJ and its partners together released the Pandora Papers on Sunday, October 3 at 12:30 p.m. EDT sharp, or as Sun Tzu would have done it. described it: We moved as one, leaving our plans dark and impenetrable as night fell like lightning.
In the days following the publication of the first articles of the Pandora Papers, our work has put several international leaders – from countries as far apart as Chile to the Czech Republic and Kenya – under close scrutiny.
Experts say our reporting may have contributed to the downfall of Czech Prime Minister Andrej Babis's party from a previously assured electoral victory. A criminal investigation has been launched against the President of Chile, Sebastián Piñera, and politics in Peru, Colombia, Brazil, the United Kingdom and the Netherlands have also been turned upside down. In the United States, a new bill has been introduced in Congress based on our plan to require trust companies, lawyers, art dealers and others to investigate foreign clients seeking to transfer l money in the American system.
the authentic, rigorous and vigorous journalism of the ICIJ; our ability to really put ourselves behind millions of deliberately opaque documents; our will to confront the richest, the most powerful and sometimes the most dangerous rests on the support of our trusted partners. We are fortunate that technology allows us to surf huge waves of information without ever losing sight of the mutual trust that keeps us from being lost in merciless seas.
Through more than a decade of reporting from the ICIJ and its partners, fueled by the generosity of our readers, supporters and donors, audiences can now see through the spray the deeper currents below, seizing with a greater perspective and context the reach of the offshore industry as it stands today, who it favors and to whom it harms.
The Pandora Papers reveal a giant, secretive occult system that shifts the tax burden from those who can best afford it to those who can least afford it. In Lebanon recently, to give just one example, the traffic lights stopped working due to an economic disaster. Yet the Pandora Papers feature powerful Lebanese actors hiding their wealth. The work of the ICIJ does not make reading easy. As writer Herman Melville put it: "Truth told without compromise will always have its jagged edges.
But unwavering optimism is at the heart of every ICIJ project.
My colleagues Dean Starkman and Gerard Ryle memorable summed up Pandora Papers in a co-authored note: "In a real sense, we live in a troubled world that the offshore has created. Perhaps the greatest and least appreciated strength of democracy is its ability to reform itself. But democracy cannot reform what it does not see.
"Now it is possible. Let's go! "